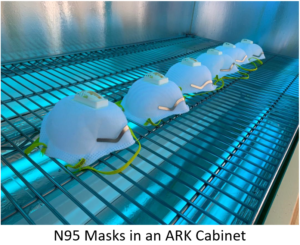 Camillus LLC was formed at the beginning of the COVID-19 pandemic as a mission driven company intent on providing UV-C lighting based disinfection solutions for the healthcare industry. Our first product, known as the ARK (for Acts of Random Kindness) was designed to rapidly disinfect N95 masks using UV-C lighting. Our mission was to provide these units free of charge for the Long Term Care Facilities such as Nursing Homes and Assisted Living facilities. After exhaustive design iterations, testing and evaluation by the US Department of Veterans Affairs Louis Stokes VA Hospital , the ARK was able to reliably achieve the high levels of disinfection required by the FDA for N95 masks.
While developing the ARK, several healthcare personnel we met asked us why larger UV-C room disinfection units were so expensive. Our reply was that there was no valid reason other than greed and profit motivation. The available units were intended for hospitals and other high cost facilities, and the profit margins being generated by those customers kept the units out of reach for non-Hospital facilities such as Nursing Homes and Long Term Care Facilities.
It was at these Nursing Homes and Long Term Care Facilities that a great number of the elderly and more medically sensitive members of our society were dying from COVID. As we investigated more, we found that prior to COVID, many people were becoming ill and dying from pathogens that had been around for a long time, such as C.diff, MRSA and VRE to name a few. The founders of Camillus felt that they had to find a cost effective way to make this technology available to those facilities and businesses that needed it the most.
Our pedigree and extensive experience in developing advanced lighting and disinfection technologies for General Electric in Cleveland, Ohio allowed us to knowledgably study the current state of the art products on the market. What we found were very highly overpriced products that were obviously NOT designed by lighting engineers. We were frustrated by systems that had poor light coverage and very inefficient use of the available UV-C light being generated. Furthermore, they were poorly designed and not ruggedized for the demands of the healthcare markets and had complicated touch screens and wireless control tablets that over complicated the real purpose of these devices – to simply, affordably and efficiently generate high intensity UV-C light to quickly kill pathogens.
The Guardian is the only unit of it's type on the market. It is designed to be meet our mission of bringing high performance UV-C disinfection to those facilities that need it the most. No unit can compare to the Guardian's extremely high disinfection power, unbeatable durability, ease of use and overall product quality in providing unmatched levels of UV-C disinfection for use in killing virtually all known pathogens on surfaces.